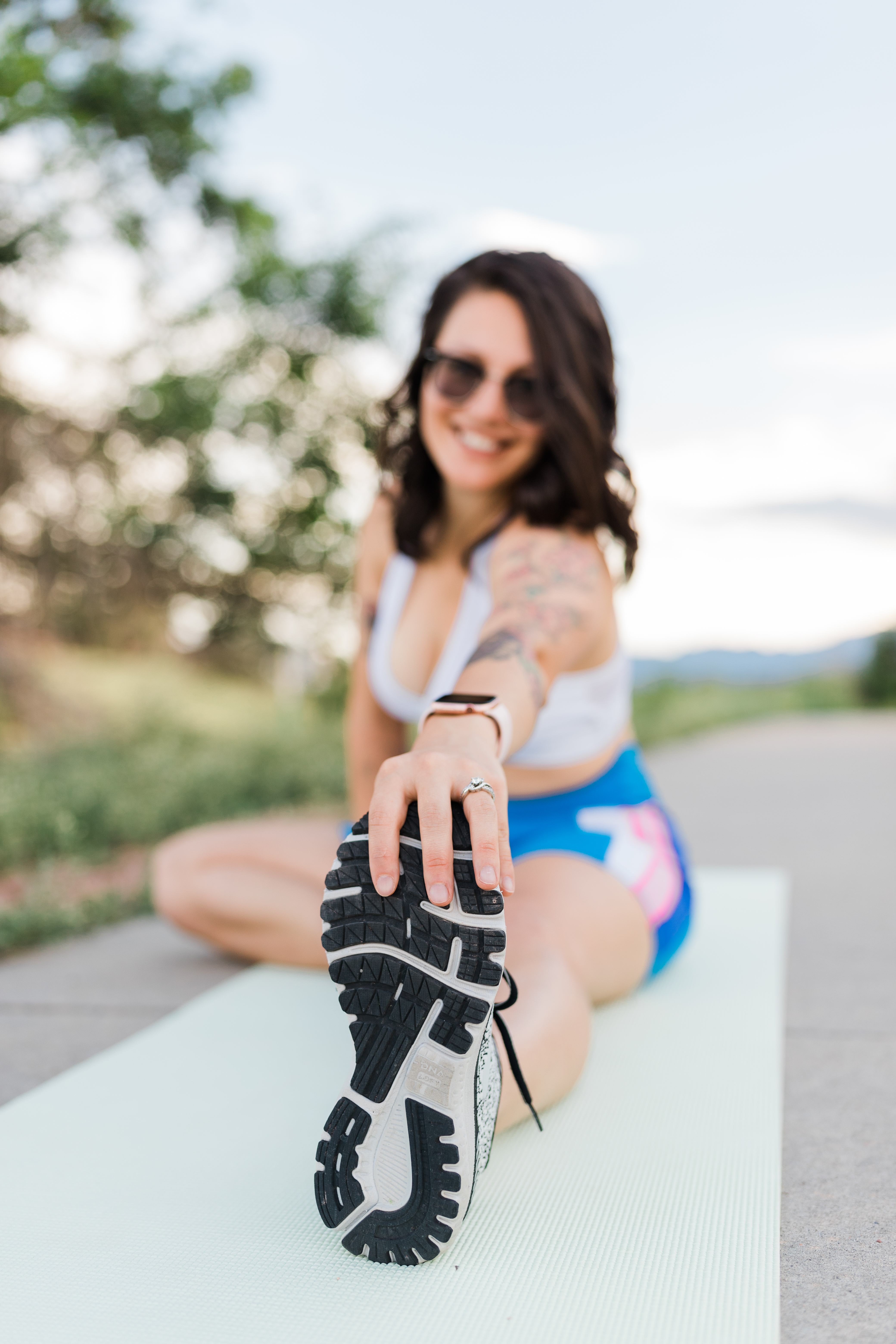 Ready to lose stubborn fat, define your muscles, get energized, eat smarter, sharpen your discipline, and reclaim vibrant health?
Do you want to get stronger and leaner in as little as 4 weeks? How about more in touch with your inner voice, confidence, and higher self?


Come get smarter, fitter, motivated, and consistent in Weight Loss Warriors! Together, we will shed unwanted habits and thought patterns to reveal the Warrior inside.


We are a community of like-minded women who want to see each other succeed on a mental, emotional, and physical level.


If you are ready to unleash your potential, the Weight Loss Warriors program and community is waiting for you with open arms.
WORKOUTS
Every 7 days, you will receive 5 new weight lifting workouts. These workouts are designed to build upon each other each week. They vary in style, blending hypertrophy and strength training to make you a well-rounded athlete with a super fit body.
You will also get access to several Guest Expert trainings ranging from powerlifting, dance classes, kinesiology and physical therapy tips, and more!
EDUCATION & MIND TRAINING
You will receive weekly, detailed nutrition lessons to educate you on proper fat loss nutrition. Along with that, you will get mindset exercises to anchor into your transformation. Leah will also take you through meditations, breathwork, goal visualizations, and personal development. Mind training work is a BIG part of Weight Loss Warriors, so expect to have some homework!
Curious about manifestation, universal laws, and the power of thought? Buckle up, because we are touching on all of that too.
SUPPORT
Our incredible, exclusive Facebook Group will be the icing on this protein cake!!! Active members are encouraged to post questions and share progress, tune into bonus live coaching videos, and meet their new fit friends! In our private community you'll find recipe and meal ideas, bonus motivation, contests with prizes, questions + answers, and more!
Looking for macro plans, nutrition help, and coaching calls? You'll be able to add those on at a Warrior Discounted price once you enroll
What's Inside The Weight Loss Warriors Membership:
New resources are constantly being added!
The support in our private group is truly unparalleled. We share recipes, funny fitness memes, our hard days, our sweaty selfies, and more. It's a great place to meet friends who get the whole fitness thing. No drama, just love.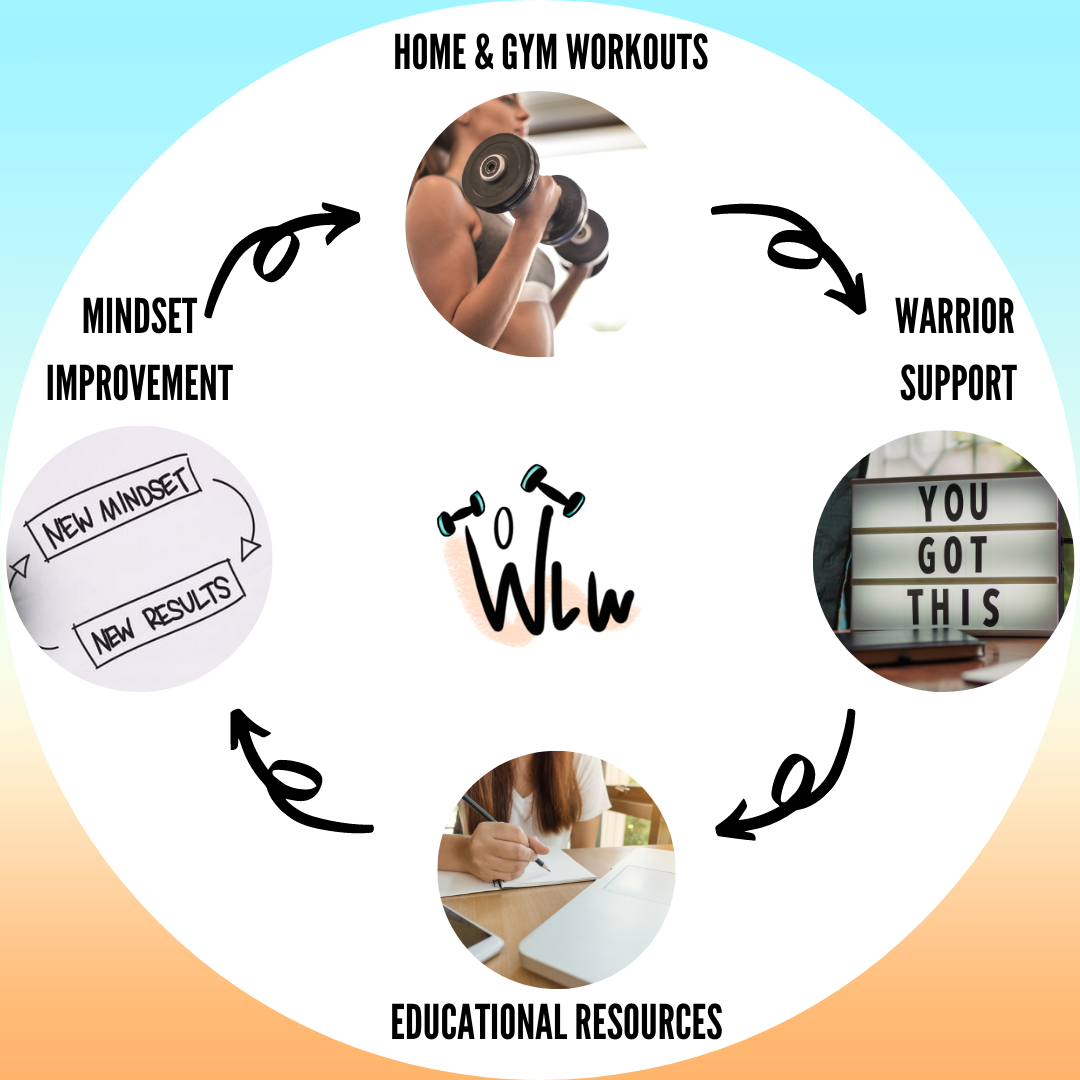 Stay motivated with a fit-minded community - we get your struggles and are here to help!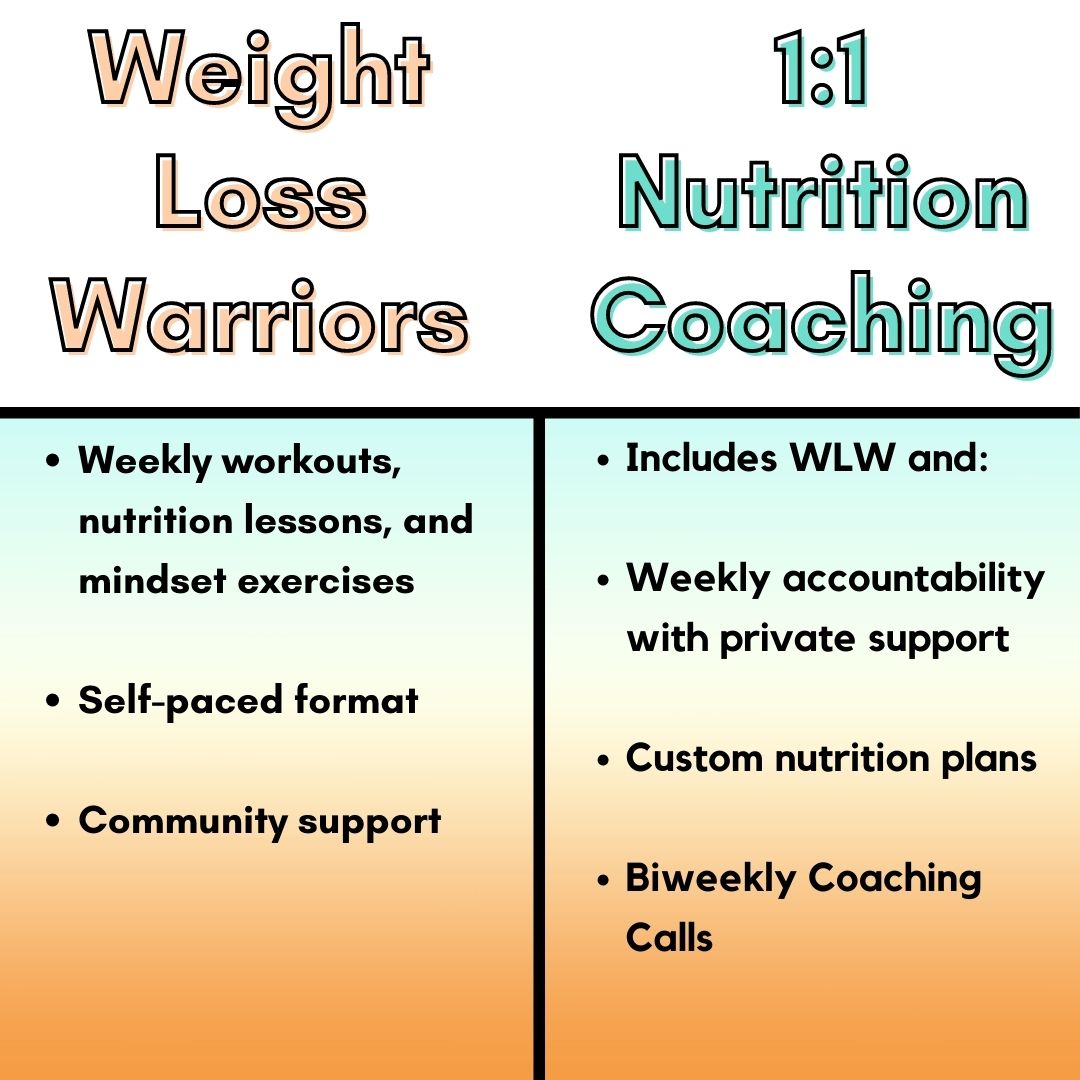 WLW versus Nutrition Coaching
Use this chart to see which program is best for you! Nutrition coaching is available at leahpetersfitness.com
Access TONS of workouts, the motivational Warrior community, nutrition lessons, mind training exercises, & meditations to guide your healthy weight loss journey!


Joining Weight Loss Warriors will:
Give you a sense of consistency and direction in the gym or at home with dumbbells
Teach you how to train with intention for fat loss results
Enhance your understanding of dieting and training
Inspire you with new recipes, meal combinations, and healthy food options
Challenge you to step up your workout game & stick with it
Give you a supportive, drama-free community to share your journey with
Encourage you to dig deeper mentally, self-heal, and grow into a better you!
Give you access to exclusive resources like videos, workouts, and awesome prizes from Leah to keep you motivated each month!!!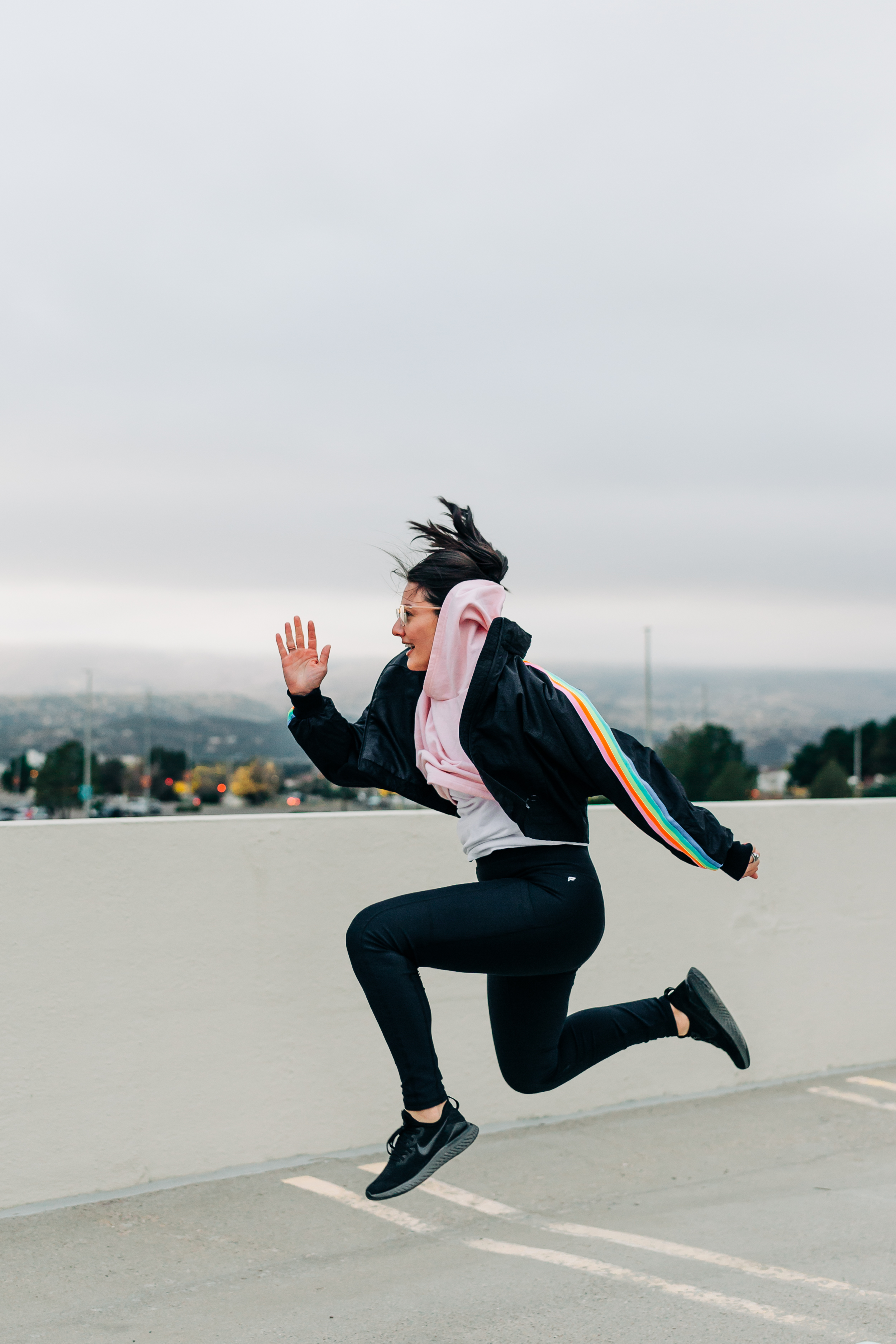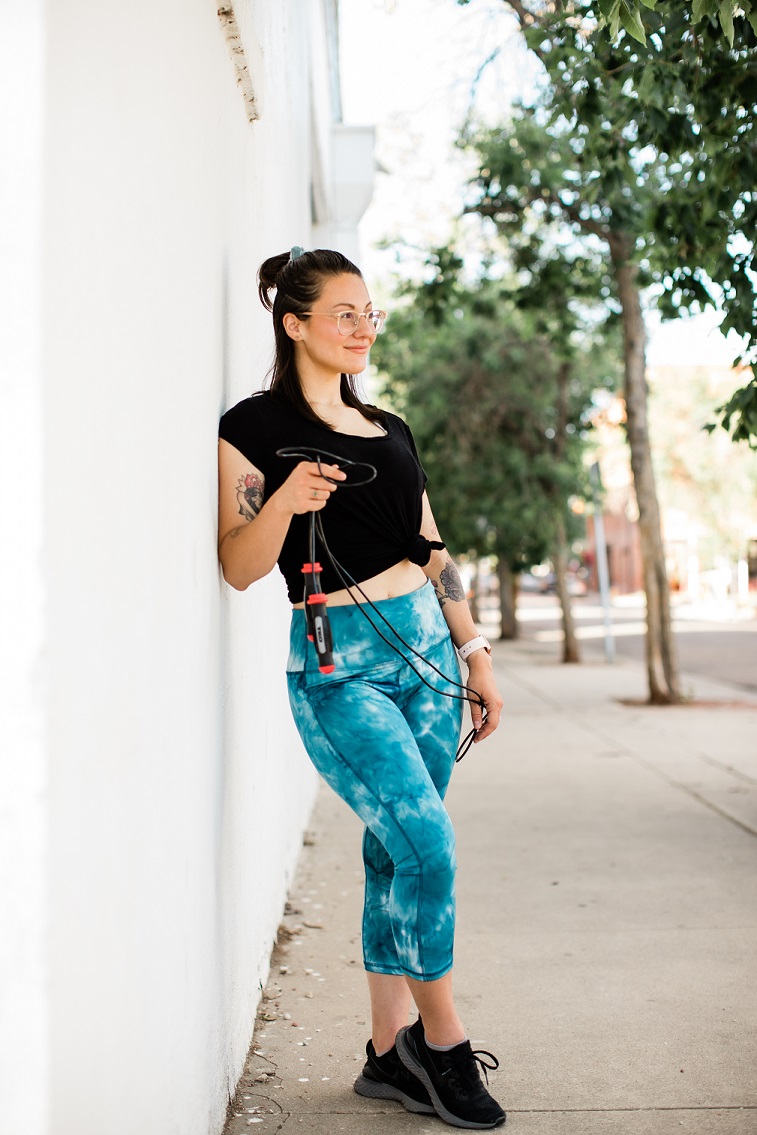 Why work with Leah?
8+ years of industry experience and thousands of successful clients prove that Leah's methods are unique and effective.
Check out some of Leah's milestones that have helped her hone in her coaching and teaching craft.
Bodybuilding competitions:
2012 NPC Texas Shredder, 1st place, Bikini 
2013 NPC Phil Heath, Top 5, Bikini
2013 Branch Warren, Top 5, Bikini
2013 Jay Cutler Classic, Top 5, Bikini & Figure
2014 Europa, Top 5, Figure & Bikini
2014 Branch Warren, Top 5, Figure & Bikini
2015 Phil Heath, Top 5, Figure & Bikini
2015 Branch Warren, Top 5, Figure & Bikini
2016 Mile High, Bikini
Partners:
Cellucor 2012-2016
1 Up Nutrition 2019-present
House of Pain 2013-2015
Fabletics 2019-present
Fre Skin Care 2018-present
Education:
B.A. in Mass Communication & Health and Wellness Promotion
M.S. in Teaching and Learning
Fitness Nutrition Specialist, National Sports and Exercise Training Association